Abelssoft WashAndGo v 20
Abelssoft WashAndGo v 20
WashAndGo 20 is a proven tool for cleansing your computer of confidential surfing and other computer data as well as for troubleshooting and system instability. It also includes a module for guaranteed non-renewable data erasure.
Every time you start your computer, WashAnadGo scans your computer to find and remove Internet surfing debris: browser and cookie caches, the history of pages you visit, and many other confidential tracks that store all your favorite Internet browsers. Of course, according to the scenario set by the computer user.
WashAndGo 20 also looks for and removes erroneous entries in the Windows registry, broken desktop shortcuts, unavailable items in the recently opened files folder, and broken entries in the list of installed applications (programs) in Windows. In addition, the »Automation« tab allows the application to set up automatic cleaning at regular intervals, either every time the computer is started, once a week or every day at a specified time.
Using the program is very safe, as it only deletes items that are almost 100% sure that they are completely useless and you can safely and safely delete them. Only in the event of a problem and possible system instability, does the program create a security backup that allows you to undo all changes for 7 days after cleaning your computer.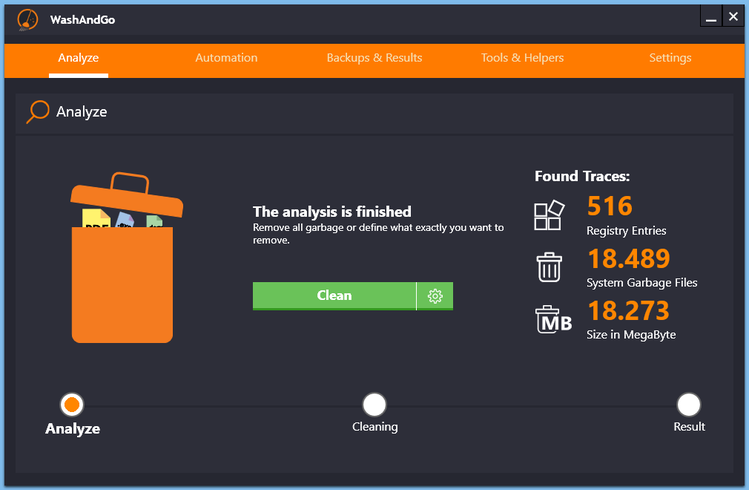 Windows 10, Windows 8.1, Windows 8, Windows 7
Version: 20 (v20.24.6)