There was a time when people used to archive MP3 files on their computers. Mostly, because of lack of HDD space and the lack of easily available sources to buy the better versions of the songs. But things have changed over time. Now, lossless files are readily available and HDD prices have fallen down drastically. So, rather than storing the lossy MP3 music files, people are moving on to storing the lossless music files. Many of the audiophiles are even ripping and archiving their Vinyl records and SACD collection.
And while dealing with your music collection, you will, at some point in time, definitely feel the need of an audio converter. Maybe, to rip a CD or to convert a file from one format to another. That's when EZ CD Audio Converter comes in, to save you from all the hassle.
Of course, there are many audio converters on the market, including free ones as well. So, what makes EZ CD Audio Converter special? Let's dive in


Ease of use

:

EZ CD Audio Converter is designed to provide best user experience with its excellent user interface and ultimate audio quality. Things are laid well enough to appease even the first time users. Everything is right in front of you. You won't have to go through multiple menus to find that one setting.



Fully featured audio file converter

:


Convert audio files to/from MP3, FLAC, M4A, AAC-LC, HE-AAC, xHE-AAC, DSD, WAV, Opus, Apple Lossless, Vorbis and many more audio formats. You can even convert audio from video files. And while converting, you won't lose the metadata. You can even batch convert unlimited number of files in one go and keep the folder structure, folder and file names. Optionally, you can customize output folder and output filenames with metadata tags. And speed up the audio file conversions on multi-core CPUs by running up to 64 parallel audio converters.


Optimized for best audio quality

:

EZ CD Audio Converter converts music with the ultra precise (64-bit floating point) audio engine. Audio resampling is performed in highest fidelity with the professional quality sample rate converter. You can convert between PCM and DSD formats with the professional quality DSD converter. All audio conversions are bit-exact, gapless and always performed in sample accuracy with the highest quality algorithms. And the latest versions of the best audio codecs are included with the software. No hassle of downloading codecs from other sources. Each encoder and decoder is carefully crafted to provide precise quality music conversion.


Rip audio CDs

: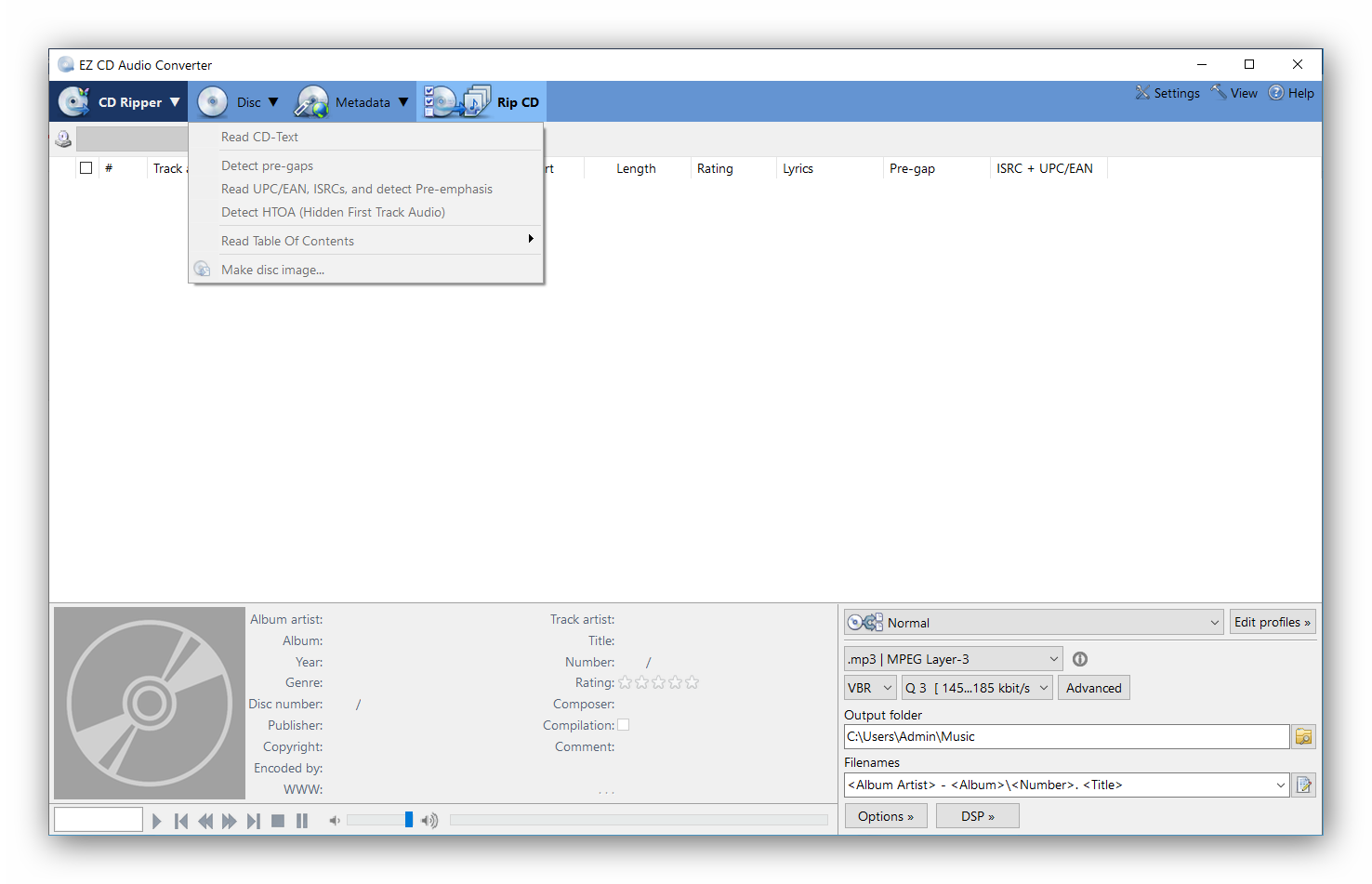 With EZ CD Audio Converter you can securely rip audio CDs with advanced error detection and two-pass CRC verification for the bit perfect digital audio quality. And convert CDs to FLAC, MP3, WAV, AAC, and other audio file formats. It reads and preserve CD-Text, ISRCs, UPC/EAN, and pre-gap information. De-emphasize audio CDs that have pre-emphasis. CD ripping log records all the CD information and exact status of the CD extractor.


Get metadata from 6 online services

:

With EZ CD Audio Converter, you won't have to look for a separate software to manage the metadata of your music files. You can easily download high quality metadata and high-resolution cover art from GD3, WMP, MusicBrainz, Discogs, Amazon, and Freedb metadata services, straight from the application itself. You can get the metadata automatically or search manually with artist / album title.


DSD Perfected

:

If you're into DSD music, you know how cumbersome it is to rip and convert DSD files. EZ CD Audio Converter takes care of that as well. It can easily handle

conversion

between DSD and PCM format in lossless quality or convert between DSD file formats in bit-exact DSD mode. This even includes SACD ISO files.



Disk Burner

:


You can also use EZ CD Audio Converter to burn audio CDs, MP3 discs, and Data discs.
But all of these comes at a price. EZ CD Audio Converter isn't free. It's a paid software. But the good thing is, it's not a subscription based.


You pay once and use it for life


.
Not convinced yet? Why don't you give it a try? The software is free to use for the first 21 days.

Homepage:


https://www.poikosoft.com/music-converter


Download:


https://download.poikosoft.com/ez_cd_audio_converter_setup.exe


As you might have already figured out by the post title, I've a few EZ CD Audio Converter licenses that I'm here to give away. These licenses are officially sponsored by Jukka Poikolainen, the developer of EZ CD Audio Converter, Pokiosoft, exclusively for the users of NsaneForums. Thank you Jukka Poikolainen.


No. of licenses: 10



Validity: Lifetime



Rules of the giveaway:

Comment below on why do you like EZ CD Audio Converter and want a license.
Participants need to have a post count of at least 10 before the end of this giveaway.
Refrain from using multiple accounts to enter this giveaway. Or else strict actions will be taken.
Admins/Mods reserves the right to block/ban anyone from participating in this contest.

The contest will end after 7 days of this post going live. Winners will be chosen via random.org and are expected to claim the license by sending me a direct message within 3 days from the announcement of the winners or else the license will be given away to whoever is next in line.




First 3 licenses will be given to the top referrers. If you're referring someone, please ask them to tag you in their comment.




Good Luck to everyone.


Edited

by Myna