1 – DoYourData AppUninser v5.4  For macOS
————————————————
https://www.doyourdata.com/mac-manager/mac-uninstaller.html
https://www.doyourdata.com/guide/mac-uninstaller-user-guide.html
DoYourData AppUninser is a very powerful yet easy-to-use Mac uninstaller. It can completely uninstall Mac application and remove associated files, clean up all leftovers. DoYourData AppUninser also can remove unnecessary multi languages of applications on your Mac to reclaim much free disk space.
Supported OS: macOS 11.0, 10.15, 10.14, 10.13, 10.12 and OS X 10.11, 10.10, 10.9, 10.8, 10.7, 10.6 and OS X Server.
Download the installer + license key :
https://giveaway.tickcoupon.com/doyourdata-appuninser-giveaway/
2 – DoYourData Uninstaller Pro 5.5 For Windows
———————————————-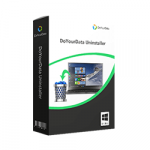 https://www.doyourdata.com/utilities/pc-uninstaller.html
https://www.doyourdata.com/guide/windows-uninstaller-user-guide.html
DoYourData Uninstaller is a smart uninstaller. This PC uninstaller can help Windows users to easily uninstall unwanted programs one by one or in batches. It will completely uninstall selected programs and clean up all leftovers including logs, junk files, registry files, logs, caches, etc. It also can help in easily and completely uninstalling useless plug-ins, games, Windows apps, etc.
Supported OS: Windows 10/8.1/8/7/Vista/XP/2000 and Windows Server
Download the installer + license key :
https://giveaway.tickcoupon.com/doyourdata-uninstaller-pro-license-code-free/