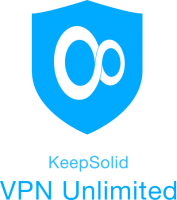 Get access to the restricted internet content, secure your online activities, and surf anonymously with KeepSolid VPN Unlimited®.
VPN Unlimited® is a well-trusted software with more than 6 years of experience in the security field. Our virtual private network provides you with online protection, complete privacy, and unlimited access to your favorite websites. Our software ensures you are able to access any geo-blocked content and helps you bypass any web restrictions.
KeepSolid VPN Unlimited® features
Web privacy
Keep your internet activities anonymous and untraceable wherever you are. Zero-log policy, traffic encryption, IP and DNS masking. These all mean that third parties are not able to monitor you any longer, and that your privacy is reliably secured from obtrusive websites and ISP surveillance.
Unlimited access
Our high-speed VPN servers in 80+ locations all over the globe, as well as our enhanced KeepSolid Wise technology, allow you to freely surf the web without giving out a single piece of your personal information, including your current location. Don't let websites discriminate you based on the way you surf the internet or the place you browse it from. Includes dedicated servers for torrenting and streaming.
Enhanced online security
The VPN service encrypts all your internet traffic with strong encryption algorithms and makes it undecipherable for cybercriminals if intercepted. Manage your bank accounts, pay bills online, log in to favorite social networks absolutely worry-free, even on unsecured WiFi hotspots.
KeepSolid VPN Unlimited offers a variety of VPN protocols, each with unique capabilities and strengths. If one of them is blocked in your network or you strive to get better performance in terms of speed, for example, changing a protocol could be a solution. Just choose the one you would like to try.
OpenVPN® – an extremely secure and highly configurable protocol that uses a wide range of encryption algorithms (including AES-256).
IKEv2 – a secure and easy-to-setup protocol that can effectively change networks and re-establish VPN connection if it was temporarily lost. It provides a significantly higher connection speed and a better performance.
WireGuard® – cutting-edge VPN protocol that offers the highest levels of security and fastest connection.
KeepSolid Wise – our proprietary VPN protocol, designed to make users' VPN connection invisible in networks and countries that block VPNs.
L2TP/IPSec – protocol used in Windows Mobile.
TLS – protocol used in our browser extensions.
DNS Firewall
To help you avoid malware infection, KeepSolid VPN Unlimited provides you with the DNS Firewall feature. This bulletproof solution intercepts DNS resolution, safeguards your online activities, and protects your iPhone from malware. To top it off, this feature allows you to block phishing sites and sites with inappropriate content.
24/7 Customer support
If you ever happen to encounter any issues or have any questions, contact our professional customer support accessible from the KeepSolid VPN Unlimited app, your personal cabinet, and the Support page on our website. Our team would be happy to offer their help.
Other benefits
Unlimited connection speed & traffic bandwidth.

Unrestricted access to web resources, even in locations with strict internet censorship like Saudi Arabia.

Simultaneous protection of up to 5 devices.

Optimal Server – Let our software for Android choose the server for you and get the optimal VPN speed and complete encryption of your private data.

Ping Test – Run a ping test, check its results, and choose the server that suits your current conditions best.

Favorite Locations – Mark the servers that you mostly use with a star and don't scroll through the whole list of our server locations every time.

Kill Switch – Turn on the Kill Switch feature and don't worry about any unexpected failures in your VPN connection.

Trusted Networks – Create the whitelist of WiFi networks that you consider to be completely secure and our app will be automatically disabled when you connect to them.
VPN Unlimited is available on:
macOS

Windows

Linux

iOS

Android

Windows Phone

Chrome

Firefox

Opera

Edge

Apple TV

Amazon Fire

Roku

Google Chromecast

Kodi

Routers

NAS
Terms and Conditions
This is a 1-computer 6-month license, for noncommercial use
You get free updates for six months
You get free tech support
You must redeem the voucher code before this offer has ended
May not be resold
Technical Details
Developed by KeepSolid
Version is v7.4 (Windows), v7.7 (Mac)
Download size is 14 – 50 MB
Supports Windows 7, 8/8.1, and 10 (32-bit and 64-bit), MacOS 11+, iOS 11+, Android 4.4+
GET YOUR REGISTRATION INFO
https://sharewareonsale.com/s/free-keepsolid-vpn-unlimited-100-discount
DOWNLOAD
Download 1: (Windows) https://downloads.sharewareonsale.com/files/SharewareOnSale_Giveaway_KeepSolid_VPN_Unlimited.exe
Download 2: (Mac) VPN_Unlimited_v7.7.dmg
Download 3: (Microsoft Store) VPN Unlimited App
Download 4: (Mac App Store) VPN Unlimited App
Download 5: (Google Play Store) VPN Unlimited App
Download 6: (Apple App Store) VPN Unlimited App
OR ; https://www.vpnunlimitedapp.com/downloads/windows
DIRECTIONS
The download links for KeepSolid VPN Unlimited are given to you above. Your voucher code is also given above. To redeem this voucher code, you need to do the following.
First, you need a KeepSolid account. If you do not already have one, click here to go to KeepSolid's website and register a free account.
Second, go to your KeepSolid account page (you will need to login) and click the REDEEM link at the top.
Finally, on that page enter the voucher code we have given you above and click REDEEM A CODE.
After you have done all that, download and install KeepSolid VPN. Once installed, run it and login with your KeepSolid account. Enjoy!