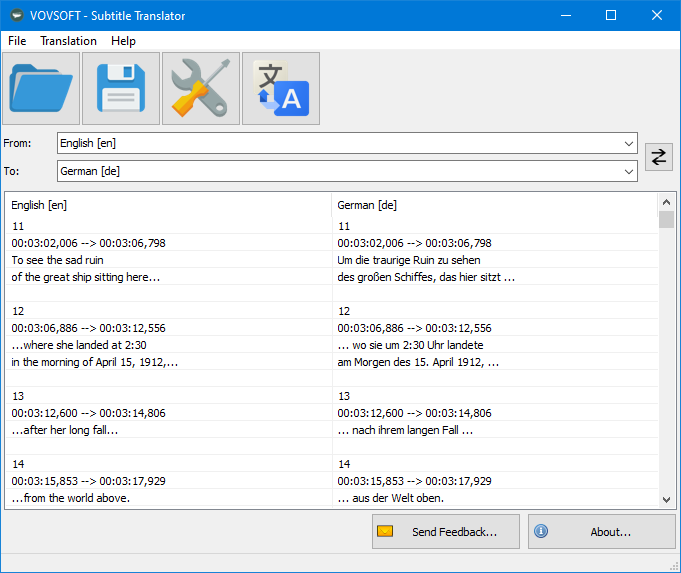 https://vovsoft.com/software/subtitle-translator/
If you enjoy watching movies with subtitles, then you probably faced situations when it is impossible to find a matching subtitle file in your own language.
One solution to this problem is translating a file you already have. SRT is the most popular video/movie closed captions (CC) filetype, VTT is the format used in Youtube and Zoom transcriptions, MKS is the Matroska subtitle filetype.
Vovsoft Subtitle Translator can help you translate subtitle files in various formats including .srt, .vtt, and .mks. You can easily add captions to video clips in any language.
This SRT translator software supports more than 100 translation languages.
The current version supports Microsoft Azure and IBM Cloud.
Supported languages:
Afrikaans, Albanian, Amharic, Arabic, Armenian, Assamese, Azerbaijani (Latin), Bangla, Bashkir, Basque, Bosnian (Latin), Bulgarian, Cantonese (Traditional), Catalan, Chinese (Literary), Chinese Simplified, Chinese Traditional, Croatian, Czech, Danish, Dari, Divehi, Dutch, English, Estonian, Faroese, Fijian, Filipino, Finnish, French, French (Canada), Galician, Georgian, German, Greek, Gujarati, Haitian Creole, Hebrew, Hindi, Hmong Daw (Latin), Hungarian, Icelandic, Indonesian, Inuinnaqtun, Inuktitut, Inuktitut (Latin), Irish, Italian, Japanese, Kannada, Kazakh, Khmer, Klingon, Klingon (plqaD), Korean, Kurdish (Central), Kurdish (Northern), Kyrgyz (Cyrillic), Lao, Latvian, Lithuanian, Macedonian, Malagasy, Malay (Latin), Malayalam, Maltese, Maori, Marathi, Mongolian (Cyrillic), Mongolian (Traditional), Myanmar, Nepali, Norwegian, Odia, Pashto, Persian, Polish, Portuguese (Brazil), Portuguese (Portugal), Punjabi, Queretaro Otomi, Romanian, Russian, Samoan (Latin), Serbian (Cyrillic), Serbian (Latin), Slovak, Slovenian, Somali (Arabic), Spanish, Swahili (Latin), Swedish, Tahitian, Tamil, Tatar (Latin), Telugu, Thai, Tibetan, Tigrinya, Tongan, Turkish, Turkmen (Latin), Ukrainian, Upper Sorbian, Urdu, Uyghur (Arabic), Uzbek (Latin, Vietnamese, Welsh, Yucatec Maya, Zulu
Giveaway link –>
https://vovsoft.com/giveaway/free-subtitle-translator-2023/
Terms and Conditions
No free updates; if you update the giveaway, it may become unregistered
You must download and install the giveaway before this offer has ended
Lifetime license
May not be resold
Technical Details
Developed by Vovsoft
Supports Windows 11, Windows 10, Windows 8/8.1, Windows 7 (32-bit & 64-bit)