F-Secure FREEDOME VPN – Free 1-year License – Unlimited Anonymous Online Security – for Windows, Mac, iOS, Android
F-Secure FREEDOME VPN – Free 1-year License – Unlimited Anonymous Online Security – for Windows, Mac, iOS, Android
Easy access to blocked content & protect your privacy that is easier than a proxy, has no ads, and unlimited bandwidth. Get F-Secure FREEDOME VPN with a 1-year license for FREE!
COMPLETE PRIVACY | ACCESS BLOCKED CONTENT | WI‑FI SECURITY | SURF SAFE AND UNTRACKED
F-Secure FREEDOME VPN is a virtual private network tool which privacy and protection, wi-fi security (meaning you can connect to any hotspot and surf with peace of mind that your internet traffic can't be viewed by any snoopers on the network). With this VPN, you can also get access to geo-restricted content and the ability to control your online privacy at the click of a button.
Once set up the app not only acts as a VPN but also as a sort of browsing security app. If you find your way to a harmful site, F-Secure FREEDOME VPN prevents you from going there. If an attack is attempted on your device, this program will stop it. Then you can go to the settings and see how many sites and attacks have been attempted.
Regardless of the websites, you browse through, FREEDOME VPN encrypts your traffic and ensures no one can spy on you or your activity, nor capture your data transfers. At the same time, the utility features two additional security tools: 'Browsing Protection' and 'Tracking Protection', which you can enable or disable individually, whenever you want, their role being visible in real-time.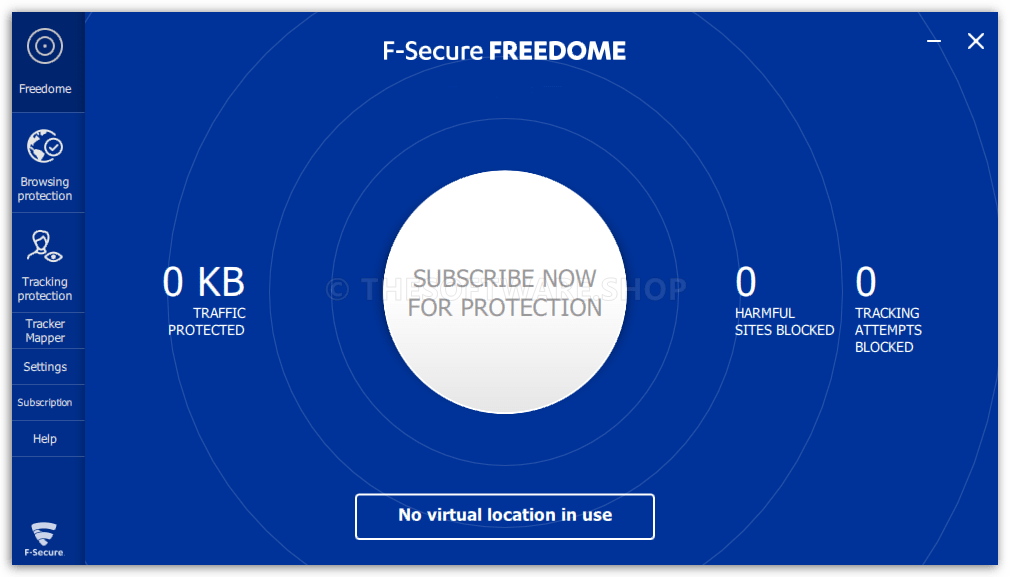 Key Features of F-Secure FREEDOME VPN:
Personal VPN: Protect your privacy by encrypting your connection and hide your real IP address from the web pages you visit.
Virtual Locations: Change your virtual location to another country to face less geo-restrictions and add an extra layer of privacy.
Tracking Protection: Stop advertisers from tracking you and making money at the expense of your privacy.
Wi-Fi protection: Your internet connection is secured so that no one can hack it when you use public WiFi.
Browsing protection: Stay ahead of online criminals and protect yourself from the increasing amount of ransomware.
Hide your IP address
Access to geo-restricted content
Multiple platform use, including mobile
Unlimited bandwidth
Tracking attempts blocked
Interactive tracker mapper
Intuitive and handy interface
Established reputable company
Based in Finland, a country with strict privacy laws
SUPPORTED PLATFORMS: Windows 7 or later, OS X 10.10 or later, iOS 10 or later, Android 5.0 or later
HINTS:
Note
To obtain a license, you must use a VPN or proxy with an IP address from Germany.
For example, you can use the free Browsec VPN plugin by choosing Germany to connect.
for Chrome
https://chrome.google.com/webstore/detail/browsec-vpn-free-vpn-for/omghfjlpggmjjaagoclmmobgdodcjboh
for Firefox
https://addons.mozilla.org/en-US/firefox/addon/browsec/
Hoxx Vpn, Firefox
https://addons.mozilla.org/en-US/firefox/addon/hoxx-vpn-proxy/
Hoxx Vpn,for Chrome
https://chrome.google.com/webstore/detail/hoxx-vpn-proxy/nbcojefnccbanplpoffopkoepjmhgdgh

The page is in German, You may need a translator
Click on the 'DOWNLOAD VOLLVERSION' button and you will go to the registration page by F-Secure.com here:
https://www.chip.de/events/adventskalender
https://www.chip.de/downloads/F-Secure-Freedome-VPN-1-Jahresversion_183078065.html?ref=adventskalender
https://translate.google.com/translate?sl=auto&tl=en&u=https://www.chip.de/downloads/F-Secure-Freedome-VPN-1-Jahresversion_183078065.html?ref%3Dadventskalender
On the registration page, Fill in the form with your data and click on 'ABSENDEN' button
The confirmation email will be sent to your email
Open the email from f-secure.com and click on the 'Confirm email address' button to confirm the registration
 Done. You will get the subscription code for free in your inbox
Download the installation file from this page above (on the download section)
Install it & run the program. Then, use the license code you've got to activate the full version free for 1 year. Enjoy
TERMS:
1 Device
1-year Subscription
No ads
Unlimited bandwidth
Free updates & technical support
No account or registration needed
Cross-Platform: Windows, Mac OS X, iOS, Android
https://thesoftware.shop/f-secure-freedome-vpn-review-coupon-code/