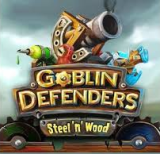 Exclusive offer from Giveaway of the Day and ToomkyGames! No third-party advertising and browser add-ons!
Tired of boring tower defense games? Goblin Defenders: Battles of Steel 'n' Wood breaks the mold with exciting and unique action! Why fight off enemies pouring in from one direction, like most other games, when you can battle hordes of monsters coming at you from all angles? That's what Goblin Defenders is all about!
Start with three guns capable of ripping through crowds of attackers and steadily upgrade your arsenal as the game progresses! But beware: the game gradually becomes more difficult as enemies approach from more and more directions! Your survival will depend on your ability to make the right choices when upgrading your weapons and towers. Ogres, spiders and evil spirits are coming for you, so answer their challenge in Goblin Defenders: Battles of Steel 'n' Wood!
System Requirements:

Windows XP/ Vista/ 7/ 8/ 10; Processor 1.6 Ghz or better; 512 Mb RAM; 256 Mb of video memory; DirectX 8.1
Publisher:

Homepage:

https://www.alawar.com/game/goblin-defenders-battles-of-steel-n-wood/
File Size:

101 MB
https://game.giveawayoftheday.com/goblin-defenders-steel-n-wood/