100% Software Giveaway on ALL Invanto Apps – Free 1 Year Access – The Online Course, Digital Product Business & Membership Management Software
Invanto Review at a Glance

Oh, the pains of starting a small business. First, you're creating a website. Next, you're collecting emails to communicate with customers. Then, you're building out a membership site or online course so you can start to monetize your site (gotta pay back dem loan sharks). And if that's not enough, you're doing all of this from different apps… "Ay Dios mio." Until now. Meet Invanto.
Invanto is small business platform of pre-integrated smart apps that allow you to build your website and create, market, and launch your products.
With Invanto, you can manage all of these apps right from one dashboard! Here are some stellar apps already on Invanto (you do not need to be tech savvy to use these bad boys):
MemberFactory – Build membership sites in a flash. Unlimited projects, automatic scaling, robust API, white-label options, and professional themes are just a few of the awesome features that come with this app.
CoachRack – Create and sell online courses with ease. This course building platform offers a site designer, futuristic designs, brand control, a language manager (speak to students in their language), and much more!
RewardBurst – Engage with customers like never before. Everything you need to engage, motivate, retain, and profit from your customers. Give them points every time they log into your site, send them a free access to your membership site when they buy one of your courses, or assign a badge when they finish a lesson.
Connect these apps to MailChimp, Stripe, Infusionsoft, and more!
Invanto is also opening up a brand new online academy and digital marketplace that lets users publish products. So, not only will you be creating your own branded sites, you'll get to sell your courses and services within the Invanto marketplace and academy without an extra work!
When you look at Invanto as a whole, there really is no competition. All apps currently on the market are created to serve one purpose and are usually flooded with features you don't need. Invanto takes out the mumbo jumbo and gives you razor sharp features that solve real problems.
Who will get the most out of Invanto? Anyone who sells information via coaching, courses, or videos.
"I don't sell information in the form of coaching, courses, or videos, should I still use Invanto?"
You bet your aunt's pantsuit collection! Invanto is great for any niche. From real estate to relationship advice, wellness to corporate law. There is no niche Invanto can't serve.
Invanto is continuously evolving and that's why this deal is so special. There's so much on the horizon for them. Even if you only got the apps Invanto currently offers, 1-year free access would still be an amazing deal.
Features

Key Features of Invanto:
MemberFactory – Build profit-pulling memebership site in minutes.

Customize the layout of your site
Track relevant member data
Release content at intervals

CoachRack – Create and sell online courses under your brand.

Build your first online school site
Track your students' progress
Supply your courses with reference materials

RewardBurst – Put customer engagement on steroids.

Add your digital products
Reward your members with points
Analyze the sales statistics

CartFrog – Create high converting sales funnels, upsells and downsells.

Create high converting sales funnels
Customize your site
Integrate with other Invanto apps

ConsentUp – Record, manage and store user consents and revocations.

Create mandatory policies
Create separate types of content
Map relevant policy documents to any site

AllyHut – Create, manage and grow the best affiliate programs.

Support your sites and products in different currencies
Promote your Invanto sites
Set your own withdrawal period

Testnia – Build tests and quizzes for your courses and lessons on your site.

Create different questions and quiz types
Gain precise test results with full student activity
Award certificates to your learners
Requirements

To run #THE SOFTWARE with optimum reliability and performance, your system should match the following requirements:
Internet Browser
Internet Connection
Giveaway link :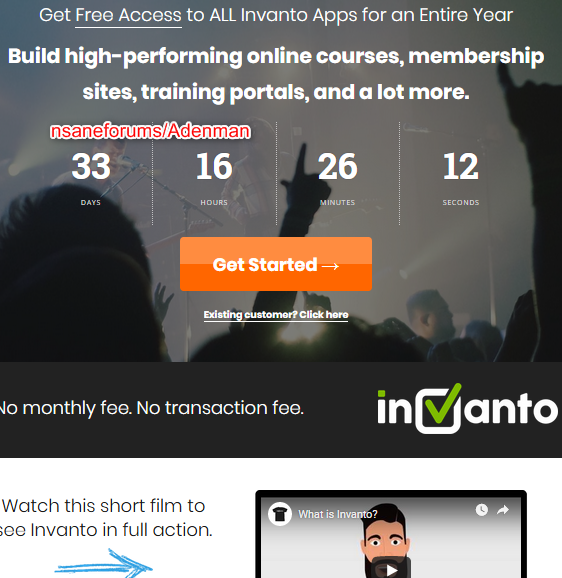 giveaway source :
https://thesoftware.shop/invanto-review-login-access-lifetime-deal/
All Invanto Apps – 1-year Access (Giveaway)
Get Free Access to ALL Invanto Apps for an Entire Year
HINTS:

In this offering box, click on the BUY NOW button and you will go to the giveaway page by Invanto.com
In the giveawa ypage, click on the GET STARTED button and the register form will be displayed
Enter your email address and name, then click on the STEP 2 button
In the next page, you will get the lifetime upgrade offer. You can skip it by clicking on the link 'No thanks. Skip this offer' under the button BUY LIFETIME PASS OFFER
In the STEP 3, you will 2-year Access Offer. You can skip it by clicking on the link 'No thanks. Just unlock the giveaway offer'
And you will go to the Secure Order Page. Just Enter your Name & Email again and click on the CONTINUE button
The Membership Access Details will be sent to your email address
Done. Enjoy the full access to the App for an entire year for free

TERMS:

New Account Only
All Premium Apps
1 membership site
1 online school
No Integration Engine feature
Only 100 zaps on Zapier utility.
30-day Money-back Guarantee
$120.00