O&O BrowserPrivacy 14
O&O BrowserPrivacy 14
O&O BrowserPrivacy: Protect your privacy
The history and data saved in your browser can reveal a lot about you and your internet activities. Cookies, for example, make it easy for websites to identify and follow you. With just the push of a button, O&O BrowserPrivacy destroys all the data collected in the browsers you use. It lets you set the level of security at which your data should be destroyed. This gives you complete control over which data in the respective browser O&O BrowserPrivacy should permanently delete for you. This applies, of course, only to those browsers supported by O&O BrowserPrivacy.
Protect your privacy
O&O BrowserPrivacy destroys browser traces securely, dependably, and permanently
Save time and avoid worry
O&O BrowserPrivacy recognizes your installed browsers. You just have to decide which data from which browser should be destroyed and O&O BrowserPrivacy does all the rest.
You have complete control
You set the security level you want for data deletion. Select the data you want permanently removed with just one click: browser history, downloaded files, cookies and website data, cache, bookmarks, passwords, and form data.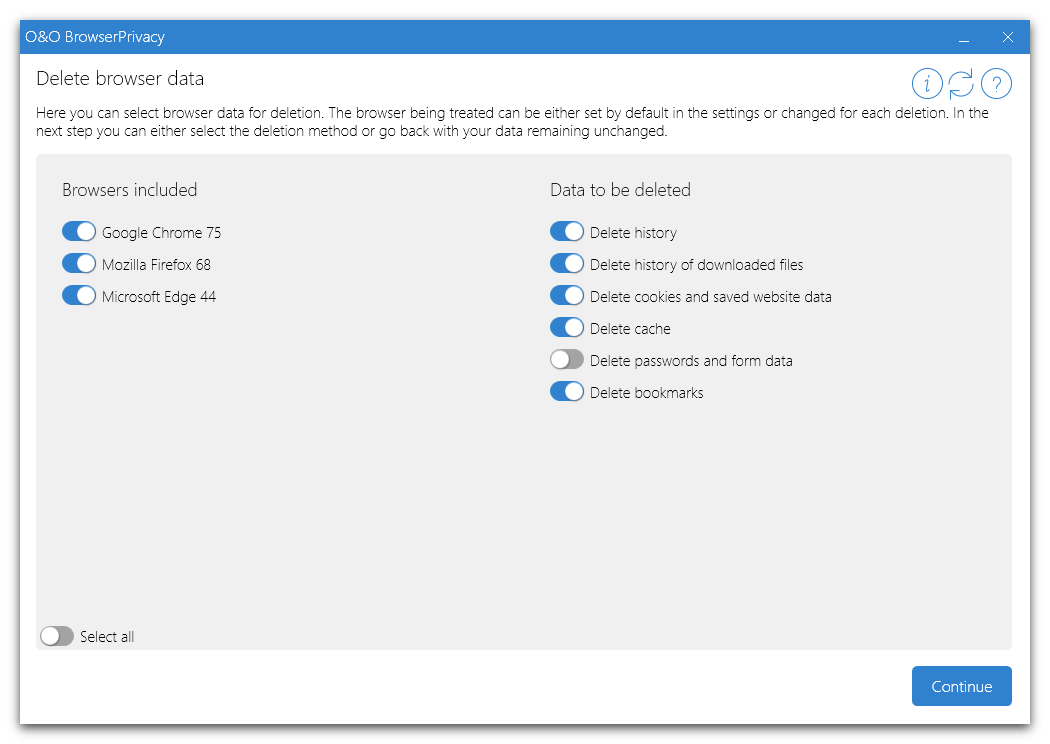 Terms and Conditions
This is a 1-computer 1-year license
You must redeem your license key before this offer has ended
May not be resold
Technical Details
Developed by O&O Software
Version is v14
Supports Windows 8/8.1 and 10 (32-bit and 64-bit)
giveaway 1
https://sharewareonsale.com/s/free-oo-browserprivacy-14-100-discount
DIRECTIONS
The download link for O&O BrowserPrivacy 14 is given to you above. To get your license key of O&O BrowserPrivacy 14, click here to go to the registration page.
https://www.oo-software.com/en/special/btu335
Fill out the form and submit your email address to register.
Once you have registered, you need to check your email inbox for an email from O&O Software; that email will contain a link that you must click. Click the link, wait for the O&O website to load, and then go back and check your inbox for another email from O&O Software; this email will contain your license key. (It may take a few hours to get the second email. Be patient.) The license key is towards the end of the email.
Once you have got your license key, download and install O&O BrowserPrivacy 14. During install, you may be asked to check for a new version or update your current version; take note this license is for O&O BrowserPrivacy 14 only and if you agree to update to a later version of O&O BrowserPrivacy, then your license will not work.
Once installed, run O&O BrowserPrivacy 14, go to INFO -> REGISTER NOW, select the ENTER YOUR REGISTRATION CODE option when asked, and then click NEXT; then follow on-screen instructions to register it with the license key you were given. Take note you will need to enter your email address (the one you used earlier to get the license key) for NAME and COMPANY fields while registering the program. Enjoy!
Download 1: (32-bit)
https://downloads.sharewareonsale.com/files/SharewareOnSale_Giveaway_32-bit_OO_BrowserPrivacy_14.exe
Download 2: (64-bit)
https://downloads.sharewareonsale.com/files/SharewareOnSale_Giveaway_64-bit_OO_BrowserPrivacy_14.exe
giveaway 2
https://tunecom.ru/licenses/442-browserprivacy-besplatnaja-licenzija.html
https://translate.google.com/translate?sl=auto&tl=en&u=https%3A%2F%2Ftunecom.ru%2Flicenses%2F442-browserprivacy-besplatnaja-licenzija.html

Edited by Adenman