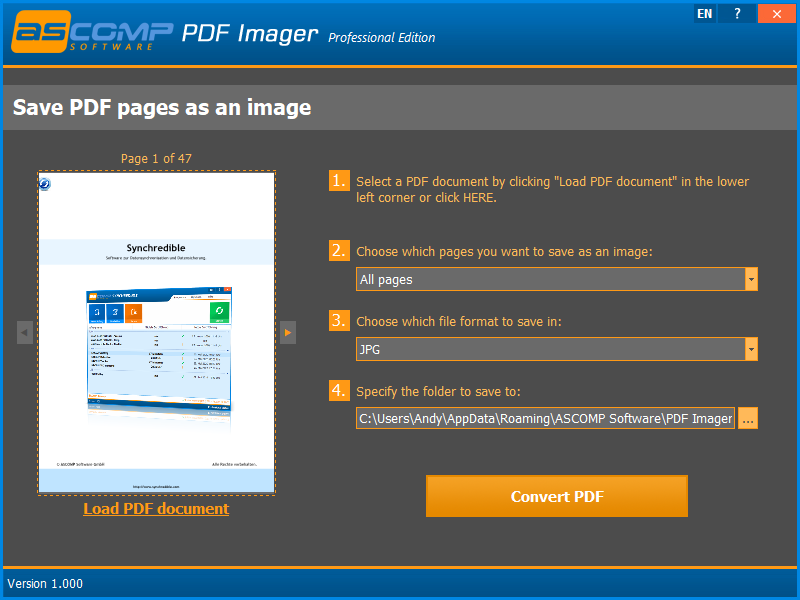 Anyone who should ever sign a PDF document knows the problem: How do I convert a PDF into an image file so that I can insert my signature graphic in Paint or Photoshop at the desired location?
With PDF Imager, this is child's play! The software converts one or, if desired, all pages of the selected PDF document into an image file. The most common image formats are supported. In addition to BMP, JPEG and PNG, EPS, GIF and TIFF are available as target formats.
PDF Imager is characterized by its simple and intuitive interface – you save valuable time when converting your PDFs!

Giveaway link –>
https://sharewareonsale.com/s/free-pdf-imager-professional-edition-100-discount
DIRECT DOWNLOAD
https://downloads.sharewareonsale.com/files/SharewareOnSale_Giveaway_PDF_Imager_Professional_Edition.exe
DIRECTIONS
The download link for PDF Imager Professional Edition is given to you above. The download is an exclusive SharewareOnSale installer with registration process built-in. Download and install PDF Imager Professional Edition. After install, run it. Upon launch, you'll be running the 14-day trial period by default. Click the REGISTER NOW at the top menu/navigation. Make sure you are connected to the Internet. A dialog should appear inside the software. Click the REGISTER NOW link shown in the dialog. It should automatically open a registration page in your default web browser. Fill out the registration page with details like email address then click SEND. Check your email inbox for an email with subject "Your ASCOMP software registration". Click the confirmation link in that email and then check your email inbox once again. A second email should arrive containing your Customer ID and Password. COPY and enter/PASTE the Customer ID on the software activation dialog. Click DOWNLOAD FULL VERSION and wait for a few seconds (up to a minute) and if registration is successful, the software will automatically download and update itself to full version. You may be asked to go through the install process again but once that is done, start PDF Imager Professional Edition once again and it should now run as a full version (Professional Edition), which should be displayed on the software title bar. Enjoy!
Terms and Conditions
This is a 1-computer lifetime license, for commercial or noncommercial use
You get free updates for the same major version for six months
You get free tech support for six months
You must register the giveaway before this offer has ended
May not be resold
Technical Details
Developed by Ascomp
Version is v2.001
Download size is 2 MB
Supports Windows 7, 8/8.1, 10, and 11 (32-bit and 64-bit)