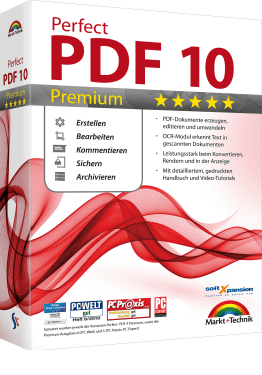 Soft Xpansion Perfect PDF enables users to comfortably create, quickly convert, extensively edit, and to professionally comment PDF, PDF/A and XPS files. Moreover, Perfect PDF® 10 Premium may be used to add digital signatures to these files in a legally reliable way, to encrypt them and to send them by e-mail. Besides, the content of pairs of PDF files can be compared, the program includes a powerful image editor and several pages can be combined in larger formats. Finally yet importantly, PDF forms can be created, filled in and saved.
The Perfect PDF® 10 Premium application is not only made for the creation of PDF, PDF/A and XPS files, transforming any
content that can be printed from within another application (using the "Print" menu). Rather, it can also create these files
directly in Windows Explorer, in Microsoft Office and in OpenOffice.org. Perfect PDF® 10 Premium includes an OCR module that recognizes text in scanned documents, enables users to search through this text and to export it into a separate file. It also enables users to create PDF/A-1, PDF/A-2 and PDF/A-3 files. Thus, the scope of PDF/A files created with Perfect PDF® 10 Premium is wide: In contrast to PDF/A-1, PDF/A-2 allows transparencies (for example highlighting or special presentations) or JPG2000 as lossless compression format (for photos and other image elements).
Moreover, with PDF/A-2, PDF/A files may be embedded into other PDF/A files. Last but not least, layers are allowed, which is for example useful in PDF files that are based on CAD software applications. PDF/A-3 enables the user to embed any file type into PDF/A, not only PDF/A itself. As a result, even the source file may be embedded into PDF/A-3. For example, electronic invoice data in XML format plus its "archive version", a PDF version of the invoice document, may be collected in one single PDF/A file.

Giveaway link –>
GET YOUR REGISTRATION INFO Coupon Code:
https://sharewareonsale.com/s/free-perfect-pdf-10-premium-100-discount
DOWNLOAD
https://downloads.sharewareonsale.com/files/SharewareOnSale_Giveaway_Perfect_PDF_10_Premium.zip
DIRECTIONS
NOTE: If you have followed all the directions below and still you are not prompted at your account page on Perfect PDF's website to enter your coupon code, make sure you go to the Perfect PDF account page by clicking this link!
The download link for Perfect PDF 10 Premium is given to you above. Your coupon code for Perfect PDF 10 Premium is also given above. This is NOT a license key and this is NOT your password. You will redeem this coupon code on Perfect PDF's website to get your license key. You will use the license key you get from Perfect PDF's website to activate the program after you have installed it.
To redeem your coupon code and obtain your license key, first you need to create a free Perfect PDF account. You can do that at Perfect PDF's website. If you already have an existing account, you just need to log into it.
Once you have created an account, you will need to click a confirmation link in your email if you are creating a new account. After you have done that, click here to log into your Perfect PDF account and you will be asked to enter the coupon code we have given to you above. Enter the code and hit CHECK AND CONTINUE. If all goes well, you will be given your giveaway license key on screen. Copy that key and save it, as you will need it to activate the program.If you see the error message INVALID COUPON: PLEASE RETRY at your account page on Perfect PDF's website, click PLEASE RETRY.
Download and install Perfect PDF 10 Premium. After install, run Perfect PDF 10 Premium and register it with the license key you obtained earlier from Perfect PDF's website. You will be asked to register the software the first time you run it; make sure to select ACTIVATE VIA INTERNET. Make sure you are connected to the Internet and that your computer clock is up-to-date. (You may get errors if your clock is not at the current time.) Enjoy!
Terms and Conditions
This is a 1-computer lifetime license, for noncommercial use
No free updates; if you update the giveaway, it may become unregistered
No free tech support
You must redeem your license key before this offer has ended
May not be resold
Technical Details
Developed by Soft Xpansion
Version is v10
Download size is 131 MB
Supports Windows 7, 8/8.1, and 10 (32-bit and 64-bit)