Get your free TogetherShare Data Recovery Pro 7.0 Professional license. Easy to use but powerful solution for full data recovery from HDDs and SSDs or external drives
TogetherShare Data Recovery Pro offers advanced technologies that will help you easily and completely recover deleted, formatted or lost files from any type of hard drive or external storage medium.
Key Features TogetherShare Data Recovery Pro
File and partition recovery for FAT 12/16/32, exFAT, NTFS, NTFS 5, ext 2, ext 3 file systems.

Supported devices: computers, laptops, Windows-based servers, as well as external HDD / SSD-drives, USB-drives, SD memory cards and Memory Stick, digital cameras, RAID-arrays, etc.

Recovery of all types of files, including: documents, photos, videos, audio files, archive and other file types.
https://www.togethershare.com/user-guide/data-recovery-software-user-guide.html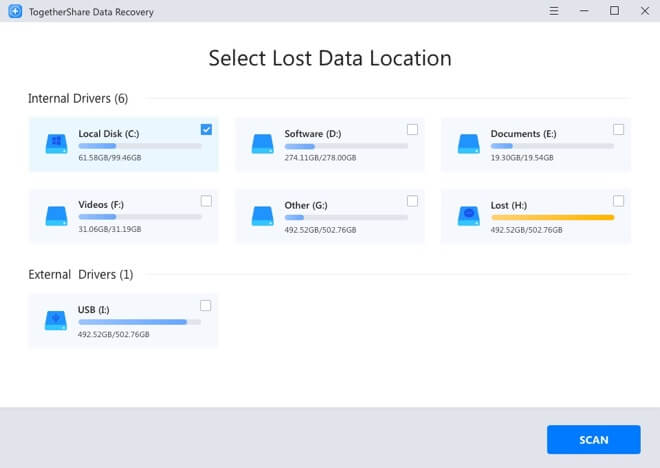 Free TogetherShare Data Recovery Pro License
To get a free TogetherShare Data Recovery Pro 7.0 license, follow these steps:
1. Download and install the program on your computer:
https://www.togethershare.com/data-recovery-software/pro-data-recovery-software.html
Try it Free
Supported OS: Windows 10 / 8.1 / 8/7 / XP / Windows Server 32 | 64-bit
2. Activate the full version in the Activate menu using the following registration code (License code):
Site: https://textuploader.com
Sharecode: /166xk

This is a lifetime license for version 7.0 only, for home (non-commercial) use only.
The license must be activated before February 10, 2020 .
Free updates to new versions are not available. Upon upgrade, the license will be reset to the trial version.
Does not include free technical support.
Source :
https://www.comss.ru/page.php?id=6788
https://translate.google.com/translate?sl=auto&tl=en&u=https%3A%2F%2Fwww.comss.ru%2Fpage.php%3Fid%3D6788