HitmanPro.Alert New Year Giveaway (05 x Annual Licenses)
HitmanPro.Alert New Year Giveaway (05 x Annual Licenses)
HitmanPro
A SOPHOS PRODUCT
Remove malware and Stay protected — HitmanPro Cyber Security Solutions
HitmanPro.Alert
Removes malware. Prevents hacking. Stops Ransomware.
Blocks what other security software misses.
HitmanPro.Alert
What's new
Build 889 [2020-12-21]
– Fixed False alarm on Chrome 88 and higher by the Stack Pivot exploit mitigation.
– Improved Heap Heap Protect shellcode detection.
HitmanPro.Alert
Highlights
The initial scan removes all traces and remnants of any malware – even those left behind by your previous security software.
HitmanPro.Alert then continues to keep you protected, stopping new threats from infecting your computer.
Advanced real-time and behavioral technologies stop ransomware, block hacking attempts, prevent program exploits, and more.
HitmanPro.Alert
Features
Advanced Malware Removal Finds and removes all traces of known and new malware hidden on your computer.
PUA (Potentially Unwanted Application) Removal Targets apps that appear benign but are actually spyware, adware, and more.
Advanced Real-Time Protection Protects against new and developing malware, PUAs, and program exploits to prevent infection.
Advanced Ransomware Protection Stops all types of ransomware from encrypting your files and boot drive.
Advanced Web Protection Blocks phishing attacks and compromised websites for safe browsing and shopping.
Online Banking Protection Secures online banking and shopping on web browsers.
Advanced Exploit Prevention Prevents vulnerable programs from being hacked to allow attackers to gain access to your system.
Privacy Protection Monitors access to your webcam and blocks attempts to record your keystrokes.
About HitmanPro.Alert
HitmanPro.Alert is a solution that provides real-time protection for home and business PCs to guard against prevalent and zero-day software exploits, drive-by downloads, crypto-ransomware, online fraud, and identity theft.

HitmanPro.Alert protects your computer systems even before new and undiscovered threats are formally addressed by security updates and antimalware solutions.
5 reasons HitmanPro.Alert enhances PC security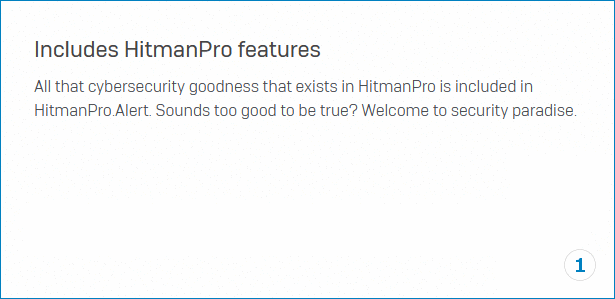 HitmanPro.Alert
Spoiler
| Why choose HitmanPro.Alert |
HitmanPro.Alert (HPA) stops complex attacks and exploits in real time while increasing privacy – includes HitmanPro. Plus, with HPA, you can know when a malicious program attempts to access your camera, protect vulnerable programs often targeted by spyware and trojan viruses, block keyloggers from stealing your passwords and credit card information, and so much more.

HitmanPro.Alert – includes HitmanPro
HitmanPro.Alert blocks the core techniques and exploits malware uses to hide from antivirus software. It also detects intruders like banking malware, remote access tools, and crypto-ransomware, simply by observing the behaviors that these threats exhibit. It even makes sandbox-aware malware terminate itself by vaccinating or 'camouflaging' your PC as a virus researcher.
HitmanPro offers advanced malware scanning and removal tools. It leverages malware databases from four security labs, including SophosLabs. HitmanPro looks at behaviors when scanning for malware. It can remove persistent threats from within the running operating system and its boot records. The scan is fast and takes just a few minutes to complete.
Advanced, Real-time Protection

New and increasingly sophisticated threats are being created every day. HitmanPro.Alert stops these brand-new, never–before-seen threats by proactively seeking out and analyzing suspicious behaviors and activities. It goes beyond old-school antivirus to deliver advanced, real-time protection against the latest hacking, ransomware, program exploits, webcam spying, and online banking risks.
Ransomware Protection

Ransomware encrypts your files, making them unusable until a ransom is paid to the hackers who spread it. And there is no guarantee that they'll be decrypted once the ransom is paid. Ransomware is one of the fastest growing malware infections in the world and has been making headlines through massive, worldwide outbreaks. It has become so lucrative, that business organizations have sprung up in the criminal world selling ransomware as a product or service to newbie hackers.
HitmanPro.Alert watches for ransomware-style behavior, not just known ransomware, allowing it to catch brand new variants that other security software can't recognize. If a file gets encrypted, HitmanPro.Alert makes a backup file. If other files continue to be encrypted, HitmanPro.Alert recognizes this behavior as potential ransomware and stops the process. It then rolls back the encryption by replacing the encrypted files with the saved backups and then removes the ransomware itself. HitmanPro.Alert also blocks unwanted encryption of the boot drive, another tactic used by hackers to get money. All of this is done without any needed user interaction.
Preventing Program Exploits

There are many helpful programs for any number of uses found on Windows PCs. Unfortunately, the programs could have vulnerabilities that provide backdoors for hackers to gain access to your system.
HitmanPro.Alert adds an additional layer of security around vulnerable programs, watching for behavior that is malicious in nature. Infections are found and promptly removed. HitmanPro.Alert then replaces infected Windows resources with safe, original versions. This prevents these programs from being exploited and used against the user.
Keeping Your Privacy

Like some programs, webcams, keyboards, and web browsers are also susceptible to hacking. Simple infection techniques could give hackers access to the passwords and credit card numbers you type, the web pages you visit, and anything that's happening in front of your webcam.
HitmanPro.Alert blocks unauthorized access to your webcam, keeping your private life private. It beefs up browser security and warns you if the browser has been compromised in anyway. It also encrypts your keystrokes, rendering keyloggers useless and keeping what you type safe. These advanced privacy features led MRG Effitas to award HitmanPro.Alert their Secure Online Banking certification.
 
HitmanPro's Advanced Malware Removal

All the features found in HitmanPro are also included in HitmanPro.Alert, including a powerful, professional-grade virus cleaner. While most traditional virus cleaners simply remove offending malware files, our deep scan and clean goes the extra mile by eradicating all traces and remnants of the malware that previous security software may have left on your computer. It'll be like your computer was never infected.
No Distractions
HitmanPro – unlike the competition – doesn't sell your information or install unwanted apps, tool bars, or advertising programs. Our focus is providing easy malware removal and proactive security.
Disrupting the Cyber Kill Chain
Alternative endpoint security solutions only focus on blocking malware delivery from web pages and email attachments, but HitmanPro.Alert also recognizes the capabilities of more devious attackers. It is purpose-built to disrupt attacks in real-time across the entire threat life-cycle or Cyber Kill Chain. HitmanPro.Alert not only offers exemplary exploit technique prevention and advanced malware remediation, its many Risk Reduction features also limit motivated and skilled attackers' abilities when they do succeed in compromising the endpoint.
CryptoGuard stops ransomware
The exclusive Risk Reduction features of HitmanPro.Alert include behavior-based protection against high-impact crypto-ransomware, a prolific threat that slips by web filters and antivirus defenses every day. This type of infection—also generalized as cryptolocker—goes after images, documents, and other personal and critical data on local disks and networked drives. Cryptolocker malware encrypts the computer files of its victims and demands ransom money for the decryption key. The signature-less operation of HitmanPro.Alert's CryptoGuard technology universally prevents spontaneous encryption of data by cryptolockers. Even when trusted files or processes are hijacked for unsolicited encryption—as observed in cryptolockers "VaultCrypt", "CryptoWall" and "CTB-Locker"—it is stopped and reverted by HitmanPro.Alert, without interaction from users or IT supposupport personnel.
Risk reduction
Other Risk Reduction features focus e.g. on anti-espionage, such as kernel-level Keystroke Encryption, Webcam Notifier and BadUSB Protection. Moreover, Vaccination and Process Protection will deter or make malware self-terminate, where Safe Browsing and Application Lockdown reveal malware that hide inside or attempt to piggyback on trusted programs to gain persistence or hoist in additional payloads.
Hardware-assisted Exploit protection
HitmanPro.Alert further raises the bar for exploit attacks. Its hardware-assisted Control-Flow Integrity (CFI) technology prevents attackers from hijacking control-flow of internet-facing applications, like web browsers, Office and other productivity software.
[Control-flow attacks are invisible to antivirus and other cyber-defenses as there are no malicious files involved. Instead, the attack is constructed in real-time by combining short pieces of benign code, that are part of existing applications, like Internet Explorer and Adobe Flash Player—a so-called code-reuse or return-oriented programming (ROP) attack.]
Employing hardware-traced records has a significant security benefit over software stack-based approaches. The hardware-traced data examined by HitmanPro.Alert is more reliable and tamper resistant—a definite edge over existing solutions.

About HitmanPro
SurfRight, the makers of HitmanPro, joined Sophos in 2015. Sophos evolves to meet every new challenge. We protect not just home users but also nearly 400,000 organizations in over 150 countries from today's most advanced threats. HitmanPro offers advanced malware scanning and removal tools. It clears up malware, keyloggers, rootkits, and trackers. HitmanPro.Alert goes even further, stopping complex attacks and exploits in real time while increasing privacy. HitmanPro is a key part of how Sophos protects home users against ransomware, malware, exploits, data theft, phishing, and more.
Website | https://www.hitmanpro.com/en-us/alert.aspx
Support | https://www.hitmanpro.com/en-us/support-alert.aspx
Downloads | https://www.hitmanpro.com/en-us/downloads.aspx
Store | https://www.hitmanpro.com/en-us/buy-now.aspx
I would like to thank the HitmanPro Team for this special New Year giveaway
| 05 x Annual Licenses |
Rules Of The Giveaway
Must be a Nsane member with at least 10 Reputation points.
Post a meaningful reply and not thanks, best, hope to win, want to try, etc.
Why do you want to win a HitmanPro.Alert license?
Optional but appreciated
Share the giveaway on social media, forums, other places.
PM me within 3 days of the winners' announcement to claim your win.
Giveaway Ends 10 Jan
Good luck
IPS Default theme used to post the giveaway. If the details are hard to read on different themes, please switch to the IPS Default theme.

Edited by khanyash