If you want to install Windows 11 on your PC that doesn't support TPM & Secure Boot, continue reading below to learn how you can bypass the problem "This PC can't run Windows 11".
As you know, installing Windows 11 requires the computer to have a TPM 2.0 module and Secure Boot. This means that if you own an old PC without TPM and Secure Boot, or you running Windows 10 in Legacy Mode, you'll receive the following error if you try to install Windows 11: "This PC can't run Windows 11. The PC must support TPM 2.0. This PC must support Secure Boot."
Windows 11 Minimum System Requirements *
Processor:   1 gigahertz (GHz) or faster with 2 or more cores on a compatible 64-bit processor or System on a Chip (SoC)
Memory:    4 GB RAM
Storage:    64 GB or larger storage device
System firmware: UEFI, Secure Boot capable
* Note: Certain features require specific hardware, see detailed system requirements.
How to FIX: This PC can't run Windows 11 – PC Must Support TPM 2.0 & Secure Boot.
To install Windows 11 on a PC without TPM 2.0 or Secure Boot, follow one of the methods below:
Method 1. Bypass TPM 2.0 & Secure Boot Windows 11 Requirements using Registry. *
* Note: Use this method to upgrade your Windows 10 PC to Windows 11. For clean installations of Windows 11 follow the instructions on method-2.
1. Press Windows

+ R keys to open the run command box.
2. Type regedit  and press Enter.
3. In Registry Editor navigate to the following key:
HKEY_LOCAL_MACHINESYSTEMSetup
4a. Right-click on the Setup key and choose New Key.
4b. Name the new key LabConfig and press Enter.
5a. Right-click at an empty space on the right pane and select New > DWORD (32-bit) Value.

5b. Name the new value BypassTPMCheck and press Enter.
6. Repeat steps 5a & 5b and create two more values with names:
BypassRAMCheck
BypassSecureBootCheck
7. Open one by one the three newly created values and type 1 at the value data box.
8. After all modifications, you should have the image below:
9.Close the Registry Editor and reboot your PC.
10. Install Windows 11.
Method 2. Install Windows 11 without TPM & Secure Boot by modifying Windows ISO file. *
Note: This method is time consuming and more complicated, but it is necessary if you want to perform a clean installation of Windows 11 from USB.
Requirements:
1. Windows 10 ISO File: To download Windows 10 in a ISO file read the instructions in one of the following articles:
2. Windows 11 ISO file: To download Windows 11 in a ISO file follow the instructions in this article:
Step 1. Convert Windows 11 "Install.WIM" to "Install.ESD".
1. Double click at the Windows 11.ISO file to open it in Explorer.
2a. From the sources folder copy the install.wim file and…
2a. …paste it to drive C: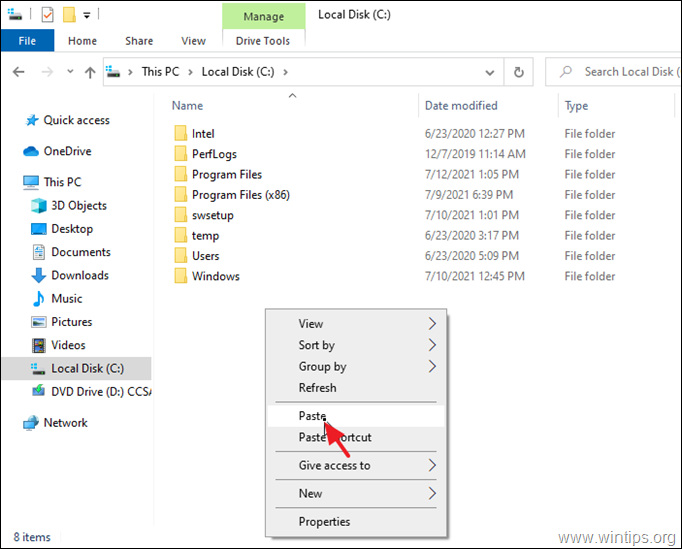 3. Click Continue at Destination Forder Access Denied message.
4. Download and installNTLITE on your system.
5. Open NTLITE, select the Free license and click OK.
4. At Image tab: Click the small arrow at the Add button and select Image file (WIM, ESD, SWM).
5. Select the C:install.wim file and click Open.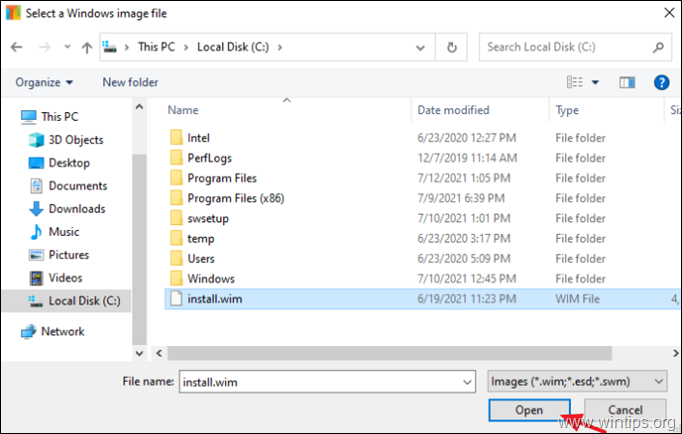 5a. Click OK at the warning message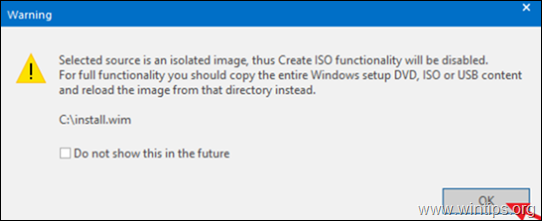 6a. Now at your screen you'll see all the Windows 11 versions that the install.wim file contains. (if it contains more than one).
6b.Right click at the Windows 11 version that you want to install on your PC and select Export > ESD.
7. Click OK at 'ESD compression' message.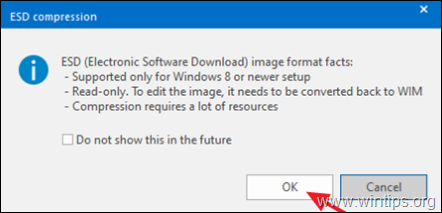 8. Select to export (save) the install.esd file in the Downloads folder and click Save.
9a. Wait for the operation to complete…
9b. …and click OK when this done.
10. Close NLITE and continue to next step.
Step 2. Modify Windows 11 ISO File.
1.Right click on the Windows 10 ISO file and extract its contents to a new folder.
2a. After extraction, explore the contents on the folder with the Windows 10 ISO files and open the sources folder.
2b. Find and delete the install.esd file.
3. Now, from the "Downloads" folder, copy the install.esd file of Windows 11 and paste it inside the "Windows10sources" folder.
4. At this point you have finished with the required steps to install Windows 11 even if your PC doesn't TPM 2.0 or Secure boot. If you want to upgrade your Windows 10 PC to Windows 11 follow the instructions on step-3 below. *
* Note: If you want to create a bootable Windows 11 USB disk, for a clean installation of Windows 11, you have two more steps:
To repack the modified "Windows10" folder to an ISO file, by following the instructions on step-3 of this article.
To create a USB bootable disk with Windows 11 from the repacked ISO file.
Step 3. Install Windows 11.
To Install Windows 11 instantly on your computer:
1. Explore the modified "Windows10" folder and run setup.exe.
2. Click Install to setup Windows 11 on your machine, by keeping your personal files and apps.
That's it! Which method worked for you?
Let me know if this guide has helped you by leaving your comment about your experience. Please like and share this guide to help others.
If this article was useful for you, please consider supporting us by making a donation.
Even $1 can a make a huge difference for us
in our effort to continue to help others while keeping this site free:
If you want to stay
constantly protected
from malware threats,
existing and future ones
, we recommend that you install
Malwarebytes Anti-Malware PRO
by clicking below (we
do earn a commision from sales generated from this link, but at no additional cost to you. We have experience with this software and we recommend it because it is helpful and useful):