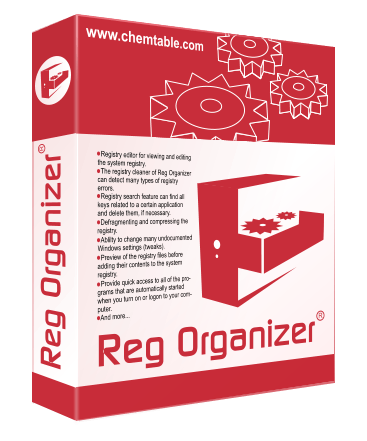 Get a free Reg Organizer 9.01 license
A useful tool for complex optimization of Windows OS, the advantage of which is safe work with the registry
New in Reg Organizer 9.01
The ability to clean the cache of programs installed in the system.
Added a new tool "Cleaning private data". It is designed to remove personal data that occurs during everyday use of the computer, such as browser history and drop-down lists with file paths that you have recently opened in the system or applications.
The new System Cleanup tool combines disk and registry cleaning capabilities to effectively free up disk space and fix system problems such as invalid shortcuts.
Ability to clean jump lists (aka "jump lists"; recently used files and actions in applications).
Ability to clear the history of the "Run" dialog (opened with the Win + R key combination).
Switch between the maximum and daily cleaning modes in the System Cleanup tool. Maximum cleanup mode should be used when you want to free up as much disk space as possible. This will be done by deleting old restore points, emptying the Recycle Bin, etc. Enable this mode to see more details and make a decision.
"Recently used files" section: now displays more files and folders that you have recently opened in the system or applications.
Check for Updates: You can turn off beta and alpha notifications.
You can change the size of the settings window.
You can now go to express check directly from the tool selection panel located on the left side of the main window.
Tool "Autostart programs": the ability to completely exclude programs from optimization. To do this, click on the cross to the right of the program in the recommendations window.
Updated documentation.
Supported operating systems
Windows 11 / Windows 10 / 8.1 / 8 / 7 / Vista / (32/64-bit)
To obtain a free Reg Organizer license, follow these steps:
1. Download and install the program from the link below:
https://www.chemtable.com/organizer.htm
https://files.chemtable.com/ro/reg-organizer-setup.exe
2. Activate the full version in the menu … > Enter the license key
using the following activation code:
Offer terms
Reg Organizer lifetime license for home (non-commercial) use only.
Only for version 9.01. Free upgrades to newer versions are not available.
You must activate the program before the end of the promotion.
Free technical support is not available.
For use on 2 home devices.
Source
https://www.comss.ru/page.php?id=4700
https://www-comss-ru.translate.goog/page.php?id=4700&_x_tr_sl=auto&_x_tr_tl=en&_x_tr_hl=ar&_x_tr_pto=wapp