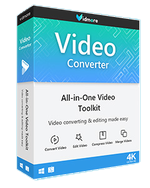 Vidmore Video Converter – 1.1.20 – Free 1 Year License
Vidmore Video Converter – 1.1.20 – Free 1 Year License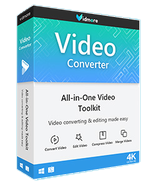 https://www.vidmore.com/video-converter/
Get a free 1 year Vidmore Video Converter for Windows license. Video Converter is designed to convert videos to over 200 formats with video editing and processing capabilities
Vidmore Video Converter is a multifunctional video converter that supports over 200 different formats and allows you to convert videos to other formats without losing quality.
The built-in video editor allows you to change videos, crop or rotate, apply various effects, or combine multiple videos into one. For advanced users, it is possible to manually adjust various encoding parameters.
The presence of about 100 presets for popular devices will allow you to convert video into a format that will be guaranteed to open on a smartphone, iPhone, Sony PlayStation, Xbox, Smart TV or other desired device.
Vidmore Video Converter Features
Convert videos to over 200 formats.
Convert video without loss of quality.
Presets for popular devices.
Supports high definition video processing, including 1080p and 4K.
Possibility of manual setting of encoding parameters.
Built-in video editor.
Supports hardware acceleration NVIDIA CUDA, NVENC, Intel QSV and AMD APP.
System requirements
Operating Systems: Windows 10 / 8.1 / 8/7
To get a free 1 year license of Vidmore Video Converter, follow these steps:
1. Go to the promotion page
https://www.vidmore.com/cooperation/gotd-video-converter/
enter your name and email address , check I Agree to Privacy Policy and click the Get Free License button .
2. A letter with a license code will be sent to your e-mail.
3. Download and install the Vidmore Video Converter software on your computer.
https://www.vidmore.com/video-converter/
https://download.vidmore.com/video-converter.exe
Terms of the offer
You get a free 1 year license for one Windows PC.
Free software updates are not available.
Free technical support is not available.
For personal, non-commercial use only.
https://www.comss.ru/page.php?id=8115
https://translate.google.com/translate?sl=auto&tl=en&u=https://www.comss.ru/page.php?id%3D8115